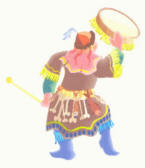 Session 3 of 4: Divination - Methods of Shamanic Inquiry
Fundamentals of Shamanism - Path of the Open Heart
with Kate Durda
Ann Arbor, Mi.
February 28, 2015 10 am - 5 pm
One of the core practices of the Shaman: 'divining' the truth. In the past, Shamans were called upon to find a new Spring for water; guide the village/tribe in response to change; determine the location and progress of an enemy; and more. Now, divination can help answer question of importances to us as well. Come practice this ancient method of seeking knowledge.

This program Path of the Open Heart, provides a solid foundation in the powerful spiritual path of Shamanism. For those who have had only an introduction to Shamanism, to those who've explored some, still have yet to deepen practice, to those more advanced as well! This series will allow you to truly come to understand what the spiritual practice of Shamanism has to offer to our everday lives!

Shamanism is "practical", useful, helpful, healing - just as it has been for over 40,000 years!! Come learn why it still exists as one of the most practical and powerful spiritual practices known. Shamanism is also a PRACTICE! You get from it what you put into it..as with anything powerful and significant. For beginners or experienced alike, this series offers deep experiential practice, and is an expanded version of the apprentice training program, which I have offered annually for over 10 years.
***Pre-requisite of this series is experience with the "Shamanic Journey' process. Call us to discuss your experience
About the The PATH of the OPEN HEART: This series is called the PATH of the OPEN HEART, after the program which I have taught for the past ten years as a Shamanic "Apprenticeship" training.

These classes are useful for beginners, intermediate practitioners, and advanced alike. The series listed below covers the core practices in Shamanism other than advanced healing methods. Those are offered separately, to the advanced/experienced practitioner. The Path of the Open Heart series will prepare those of you interested in pursuing the healing path.
Note: the Path of Open Heart Series classes are "stand alone", you can take one or all (of course, we recommend all of them for a solid foundation in beginning shamanism, but you can pick up what you miss at other times!).
Each session may also include work with basic practices such as creating sacred space, altars, medicine bundles, ethics in spiritual practice, working with the seasons (solstice, equinox), spirits of the land, and more! In addition, cross-cultural practices will be included. I have worked with Buryat, Tibetan, Celtic, Andean and Native American shamanic practices, among others, which will also inform and complete our work together.
TO REGISTER: $80 early registration if received by February 18; $95 after that date and at door. For information on how to register for this workshop click here. Repeaters $35.

March 2015

Medicine for the Earth/Healing with Spiritual Light
with Kate Durda M.A. and Stephanie Tighe
March 14-15, 2015 10am - 5pm
Location to be announced.
Details coming soon!

Shamanism: Path of Empowerment & Healing
with Kate Durda in Grand Rapids, Mi.
at Holistic Care Approach Healing Begins Within
March 21st, 10am-5pm


Shamanism is an ancient and powerful spiritual practice utilized throughout history

and still today to restore spiritual and physical health and obtain self-knowledge. The Shamanic Journey has been called one of the "most remarkable visionary methods used by humankind to explore the hidden universe otherwise known mainly through myth and dream". Groundbreaking work in fields such as the 'new biology', quantum physics, and alternative medicine are validating what shamans and other wise spiritual healers knew and practiced

thousands of years ago. We know that the mind/body/spirit connection is of vital importance not only in helping us to heal from illness, but beyond that, to truly 'thrive' and live in a state of 'wellness'.
This will be an experiential workshop,

based upon the Foundation for Shamanic Studies (www.Shamanism.org) "Core Shamanism" approach (those aspects of Shamanism that were common cross-culturally, and

central to all Shamanic practice). You will learn a practice to shift your your brain wave activity into more optimal states for healing. The benefits of one type of brain activity, the alpha brainwave, are the ability to relax and keep the mind on idle when not focused on specific task, heightened feelings of well-being and euphoria, increased creativity, and deep emotional healing.

Yet it has been found that 20 % of the population does not engage in alpha brain waves. Also, another benefit of shamanic practice is that it allows us to engage in deep levels of self-healing, particularly on the subconscious level. You will learn methods for journeying to discover, and study with your own individual spiritual teachers in non-ordinary reality, a classic step in shamanic practice.
Bring a water bottle, snacks, journal, frame drum or rattle if you have them (I have extras if not!)

Please wear comfortable clothing, warm socks, & bring a bandanna or eye cover.

Bring rattles/frame drums if you have them.

Since often people prefer to journey while lying on the floor, you may want to bring a mat to lie on and a blanket to cover up with.
TO REGISTER: $85 early registration if received by March 7; $95 after that date and at door. To register for this workshop click here. Must be pre registered. Must call if not paid in advance. Repeaters $25.

What a past participant had to say about this class: "I had never taken a Shaman class before and had no idea what to expect. The first thing that struck me was how warm and welcoming Kate was as a teacher. During the class I felt completely comfortable allowing me to relax and really open up to the experience. Intro to Shamanism was a terrific combination of information and hands on experience. I would whole-heartedly recommend it for anyone wanting to learn more about Shamanism, journey, or even get in touch with their inner self. I am looking forward to taking additional classes with Kate and explore more of the world of Shamanism."
Session 4 of 4: Path of the Open Heart: Spirits of Nature
with Kate Durda
April 18, 2015
Grand Ledge, Lincoln Brick Park
In this workshop you will gain deeper experience with one of the core practices of Shamanism, working with Nature Spirits! We will spend considerable time OUTDOORS. Among the experiences you will be guided in:
Meet and merge with Nature Spirits, to learn about the teachings they have:
Work in both the Lower and Middle Worlds, how to navigate safely in the MW.
Explore Plant Spirit Medicine; Partner with Nature spirits to learn a divination method of inquiry to obtain direction or answers to questions.
Explore Augury: reading the signs in Nature, to foretell what will come.
Learn an element balancing healing method in partnership with the four elements (Earth Air Fire Water)
Re-experience the PEACE and Healing that naturally occurs when communing withNature. Enjoy the company of a group of wonderful folks who care about LIFE. Deepen your spiritual practice, stretch your spiritual capacity... to live well, and walk in balance!
TO REGISTER: $80 early registration if received by April 12; $95 after that date and at door. For information on how to register for this workshop click here. Repeaters $35.
Two Year Celtic Shamanism Program - Graduate Reunion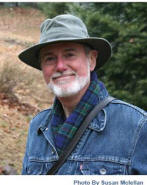 with Dr. Tom Cowan (www. riverdrum.org)
April 23-26th at
Pierce Cedar Creek Institute Hastings, Mi.
This program is open to all graduates of the Two Year program in Celtic Shamanism.
Workshop begins at 7 pm on the 23rd and ends with lunch on the 26th.
From Tom: "That old irish shaman song I taught in the 2 year: Under the earth I go, on an oak leaf I stand, I ride the filly that was never fouled, I carry the dead in me hand.
It occured to me that each line is a characteristic of the shaman's life. So I thought we would structure the weekend around these four, and take time to ponder how they were present in our lives from childhood up through discovering shamanism until today, looking at major turning points in our lives. The weekend would be a kind of life-review and a way to deepen our understanding of ourselves as shamans, or deepen our understanding of what constitutes a shamanic life. "
TO REGISTER: Early Registration is $695 for a double and $730 for a single if registered by March 1st. After this date costs increase to $720 for a double and $750 for a single. There are a limited number of single rooms.
Advanced Healing Methods II, Curse Unraveling, Clearing and Ancestral Healing
with Stephanie Tighe and Kate Durda
May 2-3, May 30-31 and June 13-14
Lincoln Brick Park, Grand Ledge, Mi.

You do not have to have taken Advanced Healing Methods 1 to get in, but those graduates will be given preference. In this training, we will cover topics such as Curse Unraveling, Depossession/Clearing & Ancestral Healing. The clearing of possessing spirits can have a profound impact. We will learn a basic form of shamanic depossession and clearing work to safely and respectfully free human beings (and animals) from possession by suffering beings of all kinds. We will learn how to recognize curses and sorcery and learn techniques for unraveling curses. Through all of this we will learn how this work can free our ancestors and our descendants.
Participants must attend all sessions! You will need to bring a sack lunch and snacks for yourself. Application needed.
To Register:
Cost: $550 if pre-registered by April 2nd, $600 after that date.
For information on how to register for this workshop click here. If you are interested in this course, contact Stephanie at stephanietighe@gmail.com or call 517 667-8448. Repeaters $250.


Advanced Healing Methods II, Curse Unraveling, Clearing and Ancestral Healing
with Stephanie Tighe and Kate Durda
May 2-3, May 30-31 and June 13-14
Grand Ledge, Mi. CLOSED
7th Annual Shaman's Walk
with Kate Durda and Stephanie Tighe
July 27th
Weather Shamanism IV with Nan Moss,
author of Weather Shamanism


October 1-4
Pierce Cedar Creek Nature Cente
This workshop is only open to persons who have completed Weather Shamanism I-III.
Two Year Advanced Shamanism and Shamanic Initiation
with Stephanie Tighe and Kate Durda
Dates, location and costs to be announced!
This will be a residential workshop where we will live and journey together. This workshop is about taking your practice deeper and experiencing personal initiations. This work has the potential to change your life. You will become stornger in your personal power. If you are a healer it will deepen your work.

We will meet three times a year for two years. We will begin on wednesday evening and end on Sunday.

Applications will be required. Preference will be given to those who have maturity in their shamanic work and/or to those who have completed other shamanic trainings such as Path of Open Heart series, Medicine for the Earth, and Adv. Shamanism I & II.
Circles for Shamanic Journeying in Lansing.
Prerequisite for attending is the completion of an introductory workshop in core shamanic journeying. In the Shamanic Journeying Circle, we build upon the journey skills we have and deepen our connections to our power animals and teachers.
No charge, $5-10 donation suggested to cover costs. Contact us for more information.
Contact Spirit Weavers, Kate, or Stephanie - SpiritWeavers@gmail.com