Journey Circles
In the language of Shamanism, a Drumming/Journey Circle is actually a gathering of people where we journey together and then share. This is a fantastic opportunity for persons who have just learned to journey as well as beneficial to more experienced persons.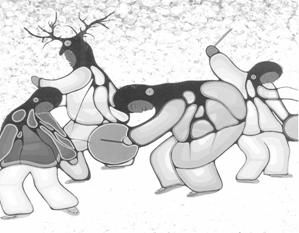 Susan Mokelke addressed Shamanic Drumming Circles in Shamanism Magazine (spring/summer 2007, Vol. 20, No. 1). She writes: "A shamanic drumming circle can be a powerful way to deepen in the knowledge and practice of shamanism. Once you have learned the basic method of journeying as taught by Michael Harner from the Foundation for Shamanic Studies or one of his students, it is important to practice to strengthen your personal connection to the helping spirits. This personal connection is crucial to the practice of shamanism. A drumming circle provides consistent, supportive structure for this practice." Further knowledge can be gained by taking the an advanced workshop from the Foundation for Shamanic Studies (www.shamanism.org) or with practictioners such as Kate and Stephanie from Spirit Weavers.
I have been a part of many drumming circles. Some have been in the town where I live but also as I travel I have visited circles in other towns and states. It has been a wonderful way to meet and connect with people.
Who should attend a journey/drumming circle?
Anyone who wants to get better at journeying or anyone who wants to deepen their practice or anyone who is seeking shamanic community. In our circle one evening we were talking about how long people had been members. It came out that two people had not felt "worthy" to attend the circle. It saddened me to think that we had missed the opportunity to sit in circle with these persons. Fortunately, they are now both regular members.
What do you do at a Circle?
The content of a circle can vary from practictioner to practictioner. The basics are calling in Spirits, drumming and rattling to raise energy, journeying, sharing journeys and then closing the circle. In most circles we share journeys but we do not interpret each others journeys
What does it cost?
The cost of circles can vary depending on facility costs and supplies. Most circles ask for a donation of between $5 and $10.
How long do they last?
Our circles usually last about 2 - 2 1/2 hours.
Where can I find a circle?
There are circles all over Michigan. Contact Spirit Weavers to find a location near you!
Kate started the Drumming circle in 1995 in Lansing Michigan. Stephanie had started a Drumming Circle in Grand Rapids, MI way back in the late 1980's, and even though she moved in 1996 and joined forces with Kate, the Gr. Rapids Circle still meets! For about two years we sponsored a Grand Ledge Circle as well. The Lansing circle has met continuously, meeting twice a month from 1995 until 2005, when we began meeting once a month that year.

Upcoming Circles are usually on the first page of our website, so check there if you have any questions. We begin the circle by calling in spirits then drumming and rattling to raise energy. We do one or two journeys and close with a prayer circle. This Circle is open to anyone who knows how to journey using the technique as taught by the Foundation for Shamanic Studies, Kate or Stephanie. In circles we build upon the journey skills we have and deepen our connections to our power animals and teachers. You are welcome to contact us to see if there is a circle in your area.
Below are some examples of journey circles we have done and what has occured at them.
Dia de los Muertos
At this circle we will celebrate Dia de los Muertos by having our traditional Feast for the Ancestors. We honor our ancestors (those of blood and of milk) by creating an altar for them, sharing their favorite foods and by telling stories of them. We hope you can join us for this event. Please bring a dish to share as it will be a potluck dinner. Ideally, it would be a food that your ancestor loved. You are also welcome to bring items of your ancestors to help create the altar (often folks bring photos, whatever you bring you will also take home with you). Contact Stephanie to let her know if you are coming or for questions (517 667 8448). We will meet in the usual place.
Full Moon
Thank You to Tina for hosting a fantastic circle in October. It was a perfect night, the weather was amazing and the moon was full. We did a lot of releasing to help us rest as we go into the winter. We also serenaded and offered our love and gratitude to MOON!
long ago....
In December the last Circle of the year will be at the home of Kate and Stephanie on December 17th for our Annual Solstice Gathering. Please call to RSVP. We will begin gathering at 4 pm and will have a potluck dinner/snacks and will also have a fire ceremony in our fireplace. We hope that you will be able to join us!!
Drumming Circle
Tonight there were 4 of us at Drumming Circle sitting in the warm glow of a beeswax candle. Our focus was on Goddesses and through the Goddesses to reconnect with the feminine and to journey to new places and teachers. We began by drawing a Goddess card with the intention of calling to us a Goddess who would assist us in removing any blocks that were in our way. Then we journeyed to her. For our 2nd journey we drew another card, this time of a Goddess who would love and nurture us and we journeyed to her. Kate made us copies of information on the Goddesses we had drawn so we could take the information with us. It was a fun evening of reconnecting with the feminine, spending time with good women and synchronicities. In my first journey I realized that the place in the upper world where I was visiting the Goddess was also the place where I had been in a dream the night before.
Drumming Circle
Tonight there were 10 of us at Drumming Circle. Tina, our hostess, has a beautiful spot for a fire circle at her home. The land where she has her fire circle is so happy because she has done so much spiritual work there!!
When we arrived Tina had a beautiful fire started. She called in the Spirits and welcomed us. We then did some drumming and rattling.
Our first journey was to ask what prayers we should offer to the fire. When we came back from the journey we, one at a time, gathered up some dried herbs and/or sweetgrass and/or tobacco. We filled them with our prayers and offered them to the fire to be taken up to the Spirits to become manifest. The only sound while we were offering our prayers to the fire was the beat of the drum and the sounds of the birds all around us singing their thanks.
Our next journey was to the element of fire. We gathered close to the fire, sitting and laying near it, some of us with "soft eyes" and some with our eyes closed. We journeyed into the fire, asking to merge with it and asking it to teach us. After the journey we shared our journeys with each other.
We then ate some wonderful apple cookies that Tina made from the apples growing on her land and then Tina closed the circle and we offered more dried herbs to the fire.
Many thanks to Tina for hosting the Circle. It was a wonderful evening!!
Drumming Circle
12 people attended
Kate read from Sandy Ingerman's August Transmutation news about the Full Moon Ceremony for this month and encouraged others to read the news on the internet and to participate on August 19th
In tonight's circle our first journey was a personal one. We did not talk after this journey but spent a bit of time in quiet to process/journal. Journey was about 18 minutes long.
Second Journey. This journey was also a personal journey, with some suggestions. One of the suggestions was to ask about healing (personal, for others, for the earth). The other intention was to journey to meet ones true self. This journey was also about 18 minutes long and we did go around and share our journeys.
Final Ceremony – while people were sharing journeys there were two pieces of paper going around and we wrote on the paper the names of everyone and everything we were praying for healing for. We then put the names under a picture of Green Tara and placed a beeswax candle burning on top of it. Then, in silence, we transfigured for about 5 minutes, then continues to transfigure as we began toning. Then we connected our heart lights to each of us in the circle, then to each individual in the room, then we connected our heart lights to every name on the papers, creating a web of light between ourselves and all those we know who are seeking healing.
We ended the Circle with a song, learned from Barb and Frannie (original author unknown):
Love-Love-Love-Love
People this is your calling
Love your neighbor as yourself
For Spirit Loves all.
For questions and/or directions, contact Stephanie at Stephanietighe@gmail.com or call 517 667-8448